BEAUTY GUIDE: 10 BEAUTY ESSENTIALS FOR YOUR EVERYDAY MAKEUP ROUTINE
At BeautyShoppingMall.com, we know that having a beauty routine is essential for looking and feeling your best. Whether you prefer minimal makeup or a more dramatic look, having the right beauty essentials can make all the difference. We've put together this guide and list of our top 10 must-have beauty essentials for your everyday makeup routine. Each item on this list will help you create a customized look that is sure to turn heads without taking up too much time. Let's start with the basics:
Primer: Prep your Skin
One of the essential beauty products that should be a part of your everyday makeup beauty routine is a face primer. A primer helps to prep your skin for makeup application by creating an even surface and extending the wear-time of your makeup. It also helps to blur out imperfections such as fine lines, wrinkles, and pores.
When choosing a primer, consider factors such as skin type (oily, dry, combination), skin concerns (such as redness or dullness), and the type of foundation you'll be using. Some popular types of primers include silicone-based primers for smoothing out texture, hydrating primers for dry skin types, color-correcting primers for addressing specific concerns like redness or discoloration, and mattifying primers for controlling oiliness.
Cleanse & Moisturize: Skincare Prep
Before applying a primer, make sure to cleanse and moisturize your face thoroughly. Apply a small amount of primer onto your fingertips or a brush and gently blend it in, focusing on areas where you tend to get oily or where you want to smooth out texture. Let the primer settle into your skin before proceeding with foundation and other makeup products.
Foundation: Create a Smooth Canvas
When it comes to creating a flawless makeup look, your foundation is the most critical aspect of the process. It's essential to create an even canvas that will make everything else blend seamlessly, and for this reason, you should invest in a reliable quality foundation product. Consider getting one that matches your skin tone perfectly or one with sheer coverage if you prefer a more natural look.
Once you've picked out your ideal foundation product, it's time to prep your skin before application. You can do this by cleansing and moisturizing your face beforehand. Using a primer can also help smooth out any fine lines, pores, or imperfections on your skin's surface. Apply dots of foundation onto different areas of your face and use either a beauty blender sponge or brush to blend evenly into the skin.
Remember that less is always more when applying foundation as too much product can end up looking cakey or unnatural on the skin. A light dusting of setting powder afterward will help keep everything in place all day long and prevent any unwanted shine from coming through during the day. By following these steps, you'll be well on your way to achieving a smooth canvas for any makeup look!
Concealer: Hide Imperfections
Concealer is a must-have in your everyday makeup routine. It covers up any blemishes, dark circles, and other imperfections that you may have on your face. Choosing the right shade of concealer is also important to ensure that it blends seamlessly with your skin tone.
To apply concealer, start by applying it under the eyes and blend it outwards towards the temples using a sponge or brush. For blemishes or pimples, use a small brush to dab the concealer onto the affected area and blend it outwards towards the edges.
One tip for achieving a flawless finish is to set your concealer with powder after application. This not only helps to keep it in place throughout the day but also prevents creasing and fading. With these simple steps, you can confidently hide any imperfections on your face and look great all day long!
Powder: Set the Look
Powder is an essential product to set your makeup look in place. It helps to control oil and shine, keeping your face looking matte and beautiful all day long. Use a fluffy brush to apply a light layer of powder over your foundation, concealer, or tinted moisturizer. If you have dry skin, make sure to use a hydrating setting powder instead of a mattifying one.
When choosing a powder, make sure it matches your skin tone perfectly. A translucent powder can be used for all skin tones but if you're looking for additional coverage or color correction, opt for a tinted powder that complements your complexion. Remember to blend the edges well so there are no visible lines on the jawline or hairline.
If you have oily skin, carry some blotting papers with you throughout the day to absorb excess oil without removing any makeup. You can also touch up with some more powder as needed throughout the day but be careful not to go overboard as this can lead to cakey-looking makeup. With these tips in mind, using powder will help keep your everyday makeup routine looking fresh and flawless from morning till night!

Eye Makeup: Enhance your Eyes
Eye makeup is an essential part of any woman's daily makeup routine. It can help to enhance your eyes, making them look bigger and brighter and more alluring. With the right techniques and products, you can create a range of different looks that will suit any occasion. Eye shadow and eye palettes
Eye Shadow, Eye Liners and Eye Palettes are essential beauty products for any makeup routine. These versatile products can be used to create a range of looks, from natural minimalist and understated to bold and dramatic.
When choosing an eye shadow or palette, look for a formula that is long-lasting, highly pigmented and easy to blend. Some popular brands include Urban Decay, Too Faced, Nars and Anastasia Beverly Hills. For everyday use, neutral shades such as browns, taupes and creams are great options as they can be worn with most outfits.
One of the best ways to enhance your eyes is by using eyeliner. This versatile product can be used to create a range of different looks, from subtle definition to bold statement lines. Try using a gel or liquid liner for precise application and long-lasting wear.
Brow Powders, Brow Gels, EyeBrow Kits and understanding Types of Eyebrow Products
Having a perfect set of eyebrows is essential for a complete makeup look and frame your face. While you can use all sorts of products like brow powders, brow gels, and eyebrow kits to create and maintain your desired shape, it's important to understand the differences between them.
Brow powders are great for quick application and creating a natural look. They are available in light and dark shades, allowing you to easily customize your look. To apply, use an angled brush and lightly fill in your brows from the inner corner to the tail. For added definition, use the tip of the brush to draw short strokes in sparse areas of the brows.
Brow gels are great for adding volume and ensuring that your brows stay put all day long. Many brands offer tinted gels that are designed to give more definition and color to your brows without looking overdone
Another key element of eye makeup is mascara. This simple product can make a big difference to the overall look of your eyes, adding length and volume to your lashes. Mascara is available in a range of formulas, from water-resistant to lengthening and thickening.
Blush/Bronzer: Add Definition and Color
Blush and bronzers are two essential products that can elevate your everyday makeup routine. Blush adds a pop of color to your cheeks, while bronzer helps add definition and warmth to your face. Choosing the right shades for your skin tone is important, as it can make all the difference in achieving a natural-looking flush.
When applying blush, start by smiling in the mirror to locate the apples of your cheeks. Use a fluffy brush to apply the product in circular motions, blending upwards towards your temples. Remember to tap off any excess product before applying it on your face, as too much product can result in a clown-like appearance.
Bronzer should be applied lightly on areas where the sun naturally hits your face- forehead, cheekbones, nose and jawline for example- for an overall healthy glow. Keep in mind that less is more when it comes to bronzing; you want to create subtle dimension rather than an overly contoured look. With these tips and tricks, incorporating blush and bronzer into everyday makeup routine will become effortless!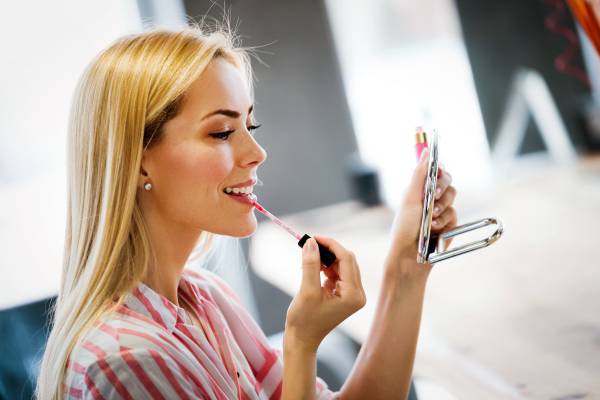 BEAUTY GUIDE & TIPS  FOR EVERYDAY MAKEUP
Contour Makeup
Contour makeup has become a beauty staple although not exactly an essential part of every beauty routine. It is the perfect way to achieve a sculpted and defined face, which can be achieved with just a few simple steps. Contouring involves using darker shades to create shadow on the areas of your face that you want to appear smaller or more defined, while highlighting lighter shades on areas you want to bring forward or enhance.
To start your contour makeup routine, choose a shade that is about two shades darker than your natural skin tone for contouring and a shade that is two shades lighter for highlighting. Then, apply the darker shade under your cheekbones, along the sides of your nose, and around your hairline. Blend well with a brush or sponge until there are no harsh lines.
Next, apply the lighter shade to the high points of your face such as above cheekbones, down the center of the nose bridge, cupid's bow area above lips and brow bone area below eyebrow arches. This will help create dimension and bring attention towards these areas giving an overall lifted effect to facial features.
Adding contour makeup into your everyday beauty essentials can add polish to any look without taking too much time in application but elevating overall appearance greatly!
Lips: Perfect Your Pout
First and foremost, achieve the perfect pout by giving your lips a good scrubbing. Exfoliating your lips can help get rid of any dead skin cells and create a smooth surface for lipstick application. You can either use a lip scrub or simply mix sugar with honey or coconut oil and gently massage it onto your lips.
Next, don't forget to moisturize! Keeping your lips hydrated is key to maintaining healthy-looking lips. Using a lip balm or an overnight lip mask can help prevent dryness and chapped lips.
When selecting the right shade of lipstick, consider your skin tone as well as the occasion you'll be wearing it for. A bright red may be perfect for a night out, but a subtle nude is more appropriate for work or daytime events.
Lastly, apply lip liner to define the shape of your pout and prevent bleeding of lipstick outside the lines. Choose a shade that matches your natural lip color or one that complements your lipstick shade perfectly.
By following these tips, you'll have perfectly polished pouts every time!
Setting Spray
Setting spray is an essential part of any makeup routine, and there are a few options to choose from. One of the most popular types of setting sprays is a hydrating mist, which helps to keep your skin looking and feeling hydrated while also locking in your makeup. This type of setting spray can be used throughout the day to help refresh your makeup look. It's also great for those who have dry skin or live in dry climates.
If you want a matte finish, a mattifying setting spray is the way to go. This type of spray helps control oil and shine and provides you with an all-day matte finish. It's great for those with oily skin or those who live in humid climates.
Lastly, there are finishing sprays, which are designed to provide you with a flawless finish to your makeup look. Finishing sprays can help blur out any imperfections and give you a smooth, even complexion that lasts all day.
In conclusion: Having the right makeup essentials in your beauty arsenal can make all the difference when it comes to achieving a flawless look. There is no single right way to complete your everyday makeup routine. Everyone has different needs, preferences and budgets. However, these 10 beauty essentials are a great starting point for achieving a polished and beautiful look. Make sure to invest in quality products that meet your individual needs, and experiment with different looks to find styles that make you feel confident and beautiful.
Maintaining a beauty routine is crucial for achieving your optimal appearance and boosting self-esteem. It doesn't matter if you prefer a minimalistic or more extravagant makeup looks, having the appropriate beauty products can significantly enhance your appearance and save you time. We compiled this list of our top ten essential beauty essentials and products that you can integrate into your everyday makeup routine. With the help of these beauty essentials and cosmetics products, you can create a unique and personalized makeup look that will enhance your natural beauty without taking up too much time. This guide provides the fundamentals of establishing your everyday beauty routine. Use this guide as inspiration for creating your own signature look. Don't be afraid to break the rules and make it your own!
.